Process Health
The gist
At the very core, it's a snapshot of how your engineers activity matches your process definitions.

What you can do with it? There is plenty:
As a manager you can:
1. See your current release cycle time
2. Identify bottlenecks in the process and validate your changes;
As an engineer you can:
1. Check how well you fit the process standards of your organizations;
2. Select areas for personal improvements and track your progress;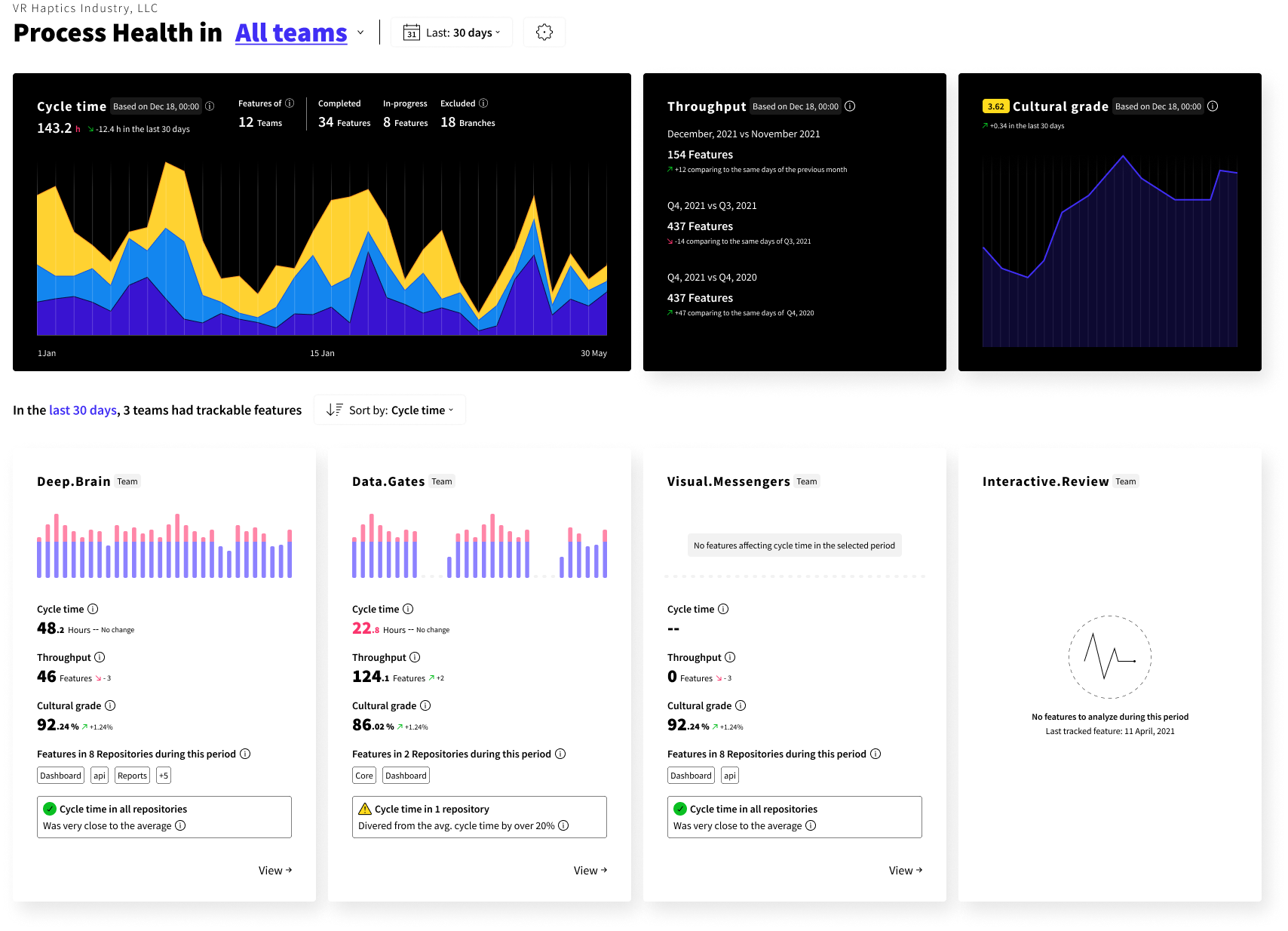 Benchmarks
All filters in your account have a benchmark. Your account is pre-configured with default values. You can set custom benchmarks for your entire organization or a specific team.
They serve as goals for your organization. Everything that falls outside your goals will be marked as an issue.
Issues
Issues are your main driver of innovation 🥰
For a manager: It is hard data to pin-down bottlenecks and validate new processes.
For an engineer: It's an on-time notification that helps to avoid trouble and adjust to the culture.
Release cycle filters
You can see how long a feature takes from the first commit to merge. Including the time for each phase:
Development - everything between the first commit up to an open PR;
Review - From an open PR to approve;
Merge - How long it takes you to merge after approval;
Issues will help you find places where your process gets stuck. Time to upgrade your process and test results! 🤠
Workload balance filters
This one is a biggie. Multitasking or overcrowding can cause delays. No one wants delays.
Multitasking engineers - Working on a few features simultaneously will make you miss the deadlines 😏
Overcrowded branches - If there is more than one chef in the kitchen, expect trouble. This might be normal for some teams, so you can configure it.
Cultural filters
Neat helpers to keep contribution patterns & workspace efficient:
Idle tasks - How long can a branch stay without activity? Helps your production to stay on the move.
Oversized PR's - How big is too big? It's not easy to spot an issue in a large PR. Keep the review process efficient and avoid the 'oops' moments😉.
Chaotic names - One thing is sure, keep it consistent so others can make sense of it😑 Linked directly with your branching strategy.
Branches waiting to close - Done with the branch - close it. Keep the workspace tidy.
This page was last revised on March 3, 2021
Return to main
2021 Code analytics software | Codigy. All Rights Reserved, Codigy UAB ©