Team health
The gist
Understanding the structure of teams & tribes is important. Codigy uses this information to map the modules within your codebase and identify collaboration bottlenecks.

Team health provides instruments to:
Organize engineers into Teams and Tribes;

Clean-up git sources (in case engineers contribute from multiple GitHub/Bitbucket/GitLab accounts);

Understand basic activity patterns of the teams;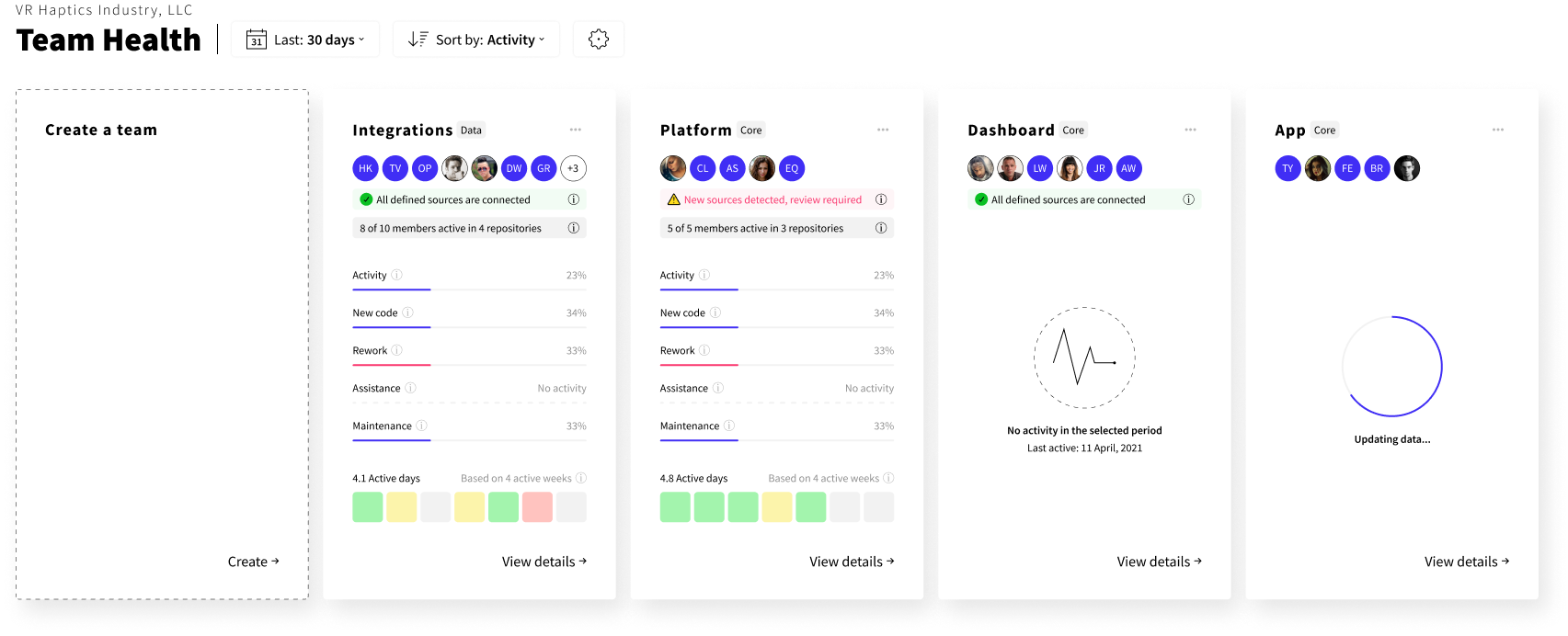 Contributor entity
A contributor is a git source that can be an engineer or a bot (e.g. Jenkins, dependabot). Sometimes engineers deliver work using multiple accounts. For convenience, such sources can be merged.
Insights:
Last active stamp - shows the timestamp of the last action that was detected and processed by Codigy. Helpful indicator while configuring/updating team structure & merging contributor sources.

Source indicator - shows if there are any unconfigured sources that look similar (potential merge target, i.e. if an engineer is contributing from an alternate GitHub account).

Burnout indicator - shows if there were at least two days within a week, where no actions were detected from the selected Engineer. While it doesn't cover 100% of cases (Codigy can't detect work made outside of git), it can be a handy indicator to keep the team healthy.
The number of work hours/days or individual activity metrics can not be determined from this💩 Our apologies to productivity-frenzy managers, we don't believe this has anything to do with efficiency 🤷‍♂️
Actions:
Merge - any number of sources can be merged. This is handy even if the contributor only works from one account because some actions will be identified as separate sources (i.e commits, PRs and comments will be grouped into three different sources).

Link with dashboard user - this associates the contributor with a dashboard user. The user's Name and Profile picture will be displayed in analytics.

Remove from analytics - contributor will be removed from analytics. In case a new activity will be detected, the contributor will re-appear as unconfigured.

Team - each contributor can be assigned to a single team. A contributor can be re-assigned or unassigned at any time.
Team entity
A team is a group of engineers. The team is one of the key entities for which Codigy will track metrics and produce analytical insights.
For example:
Codebase & Process health analytical lenses have dashboards specifically for a team level.

Daily Stand-up & Sprint retrospective reports are generated for the team entity.
Team parameters:

Team metrics (within Team health lens):

Tribe entity
A tribe is a group of teams. This is an optional organization unit usually used in larger organizations.
If your organization is using this, you will be able to:
Group your Teams into Tribes (Each Team can be assigned to a single Tribe).

Get a dedicated analytical dashboards for All Tribes or a specific Tribe in Codebase & Process health analytical lenses.
This page was last revised on March 29, 2022
Return to main
2022 Code analytics software | Codigy. All Rights Reserved, Codigy UAB ©